Responding to extreme weather events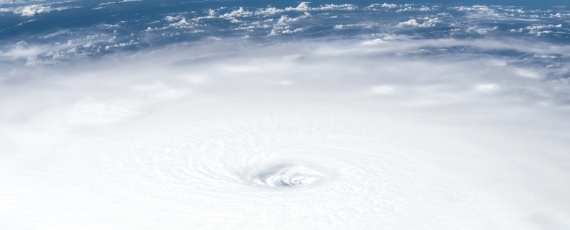 Weather events can be extreme and unpredictable, putting the emphasis on exposure data and pre-loss planning.
Prior to this year's hurricane season, no major hurricane had made landfall in the US since Wilma in 2005. That extraordinary run of good fortune ended abruptly in August with the arrival of Hurricane Harvey.
Making landfall in Texas as a Category 4 storm, Harvey caused flooding of a historical magnitude, but events were quickly overtaken by hurricanes Irma and Maria.
These three storms caused unprecedented levels of destruction, particularly in the Caribbean where hundreds of thousands of people were left without shelter or access to power and basic services.
This year looks set to become the most expensive catastrophe loss year ever.
Insured loss estimates of approximately $100 billion for Harvey, Irma and Maria have been widely cited, meaning the previous record of $130 billion (recorded in 2005 and 2011) could be exceeded when the Mexico earthquakes and other natural catastrophe losses for 2017 are included.
Record year of weather extremes
2017 has been a year of extremes. Irma was the longest-lived Category 5 storm for at least the past 50 years, while Hurricane Harvey set a new US rainfall record for a tropical cyclone.
Wildfires in California this October were deemed the most damaging ever endured by the State, while the six largest thunderstorms recorded in the US during the first half cost insurers a total of $18.5 billion.
After several years of relatively benign catastrophe losses, this year's hurricane season has put natural catastrophes back in the headlines. It has also inevitably led some to ask if such events are linked to climate change.
Few would dispute that the earth's climate is changing. The World Meteorological Organization and the UK's Met Office recently predicted that 2015, 2016 and 2017 are on course to be the three hottest years on record.
The evidence for a warming climate over the past two centuries is conclusive, according to Kimberly Roberts, Vice President and Meteorologist at JLT Re.
"We are past the point of asking if climate change is happening. The evidence is there and we see it in the observations. It is difficult to dispute the temperature data," she says.
However, the picture is far less clear when it comes to predicting the frequency or severity of a specific catastrophic peril, explains Roberts.
"While it is accepted that climate change is happening, there is little consensus on the consequences.
It is not as simple as to say it will be warmer, and therefore there will be more storms and hurricanes," she says.
Greater extremes of climate change
Some effects of climate change, however, are more tangible and better understood than others.
For example, glaciers are visibly melting and the polar ice caps are shrinking, while warming seas cause the oceans to expand and sea levels to rise.
Similarly, higher average temperatures enable the atmosphere to hold more moisture, while at the same time causing increased evaporation.
"We already see in the observations material trends emerging, such as an increase in extreme rain events.
In the past ten years, we have seen more extreme rain events in the US than were recorded in the past one hundred years," says Roberts.
Greater volatility and more extremes in weather are likely to be the standout trend in coming years, believes Roberts.
"We will see extreme events on a more regular basis. Climate models confidently predict that extreme rainfall events, heat waves and droughts are occurring with greater frequency than ever before.
"What was once considered extreme is becoming the norm," she says.
For example, recent research by Nature Climate Change suggests that hail seasons may be lengthening, starting earlier and with potentially larger hail sizes.
Another trend seen in recent years has been a clustering of convective storms, hail storms and tornadoes, where events follow in quick succession.
Hot summers and wet winters may also increase the risk of wildfire.
Abnormally high temperatures due to a mega winter El Niño contributed to massive wildfires in 2016, including the $5.3 billion Fort McMurray fire in Canada and the $500 million Chimney Tops 2 wildfires in the US state of Tennessee.
The insurance bill from October's wildfire event in California is estimated at $7 billion, according to Property Claims Services.
Catastrophe modelling
Despite the prospect of a record year for catastrophe losses in 2017, the insurance and reinsurance industry is currently well positioned to absorb such losses, explains Chris Stevenson, Senior Partner at JLT Specialty.
After five years of below-average loss experiences, the reinsurance industry is well capitalised.
Heading into the 2017 hurricane season, reinsurance capital was at a record $330 billion, translating to $60 billion of excess capital, according to JLT Re estimates.
Total reinsurance capital increased by $137 billion (or 72 per cent) between 2008 and Q2 2017.
The market has also undergone a transformation in recent years, with big advances in catastrophe modelling and the emergence of a robust supply of alternative capital in the form of pension funds and hedge funds.
As a result, this year's catastrophe losses have not resulted in a 'knee-jerk' response from the insurance market, although there is a renewed sense of discipline and determination among underwriters.
There has not been a wider move to restrict cover, but insurers are generally looking to impose more disciplined underwriting, with an increased focus on retentions and limits, explains Stevenson.
And, while insurers have been seeking rate increases as high as 25 per cent for loss affected and catastrophe exposed risks, the average price increase for loss-free natural catastrophe business has been more like 0 per cent to 10 per cent, he says.
The market has changed following Harvey, Irma and Maria, at least for catastrophe exposed risks, believes Chris Bilney, Head of Client Management and Industry Practices at JLT Specialty Property and Casualty.
"The market is hardening in specific areas. Clients buying property CAT cover in highly 'transactional' markets will now face the likelihood of price increases and coverage restrictions, and they will also need to provide more risk information to help enable negotiations with underwriters," he says.
"To get the best cover, allow more time and allow for more compression of limits and an increase in pricing. NatCat cover is becoming a more valued commodity," he added.
Data and analytics in insurance
For buyers of property insurance, one change following from this year's catastrophes is the renewed need for policyholders to provide good quality data if they are to obtain the cover they want, and at the right price, according to Bilney and Stevenson.
Natural catastrophe zoning is not yet a precise science and there are nuances, explains Bilney. For example, a property may be considered within a flood zone, but it may be on elevated ground or protected by flood defences.
This information will help profile the exposure for insurers and also allow clients to make informed decisions on limits and retentions.
"Clients will have to provide a lot more granular detail on the location and quality of their risks, including construction standards and the precise information on the environment in which those assets are sited," says Bilney.
This year's catastrophes highlight the growing importance of data and analytics in today's insurance market, a trend that will no doubt accelerate with climate change.
"Insureds will need to assess their natural catastrophe exposures with greater emphasis on data and modelling.
By using science and data to model loss events and stress-test policies, it is possible to ensure that any risk transfer solution is adequate," says Stevenson.
With a potential increase in more extreme events, understanding the potential impact of weather events at a local level will become more relevant.
"It is becoming more important to gather information on exposure and insurance cover for a specific location, to identify and map exposures that are vulnerable to hurricanes, tornadoes and hail. It will come down to location-based analytics," says Roberts.
There have been a number of persistent hail events in recent years, in the US, Germany, Australia and South Africa.
"Hail is being recognised in the insurance industry as a significant peril, but many companies still do not consider the implications of a major hail event," says Stevenson.
"Large losses from thunderstorms, tornadoes and hailstorms have shown the need to consider natural catastrophes at a local level and to look for the less obvious risks, such as the recent hailstorm in Johannesburg, South Africa," says Stevenson.
Scientific method
Advances in scientific research will help companies cope with a changing climate, providing business relevant data to mitigate and transfer risk, believes Roberts.
"The meteorological community continues to expand its network of observations – such as increasing its range of instruments and satellites to monitor the atmosphere and oceans – and use this data in climate models.
The more data we have, the better able we are to understand future weather," she says.
The role of the insurance industry is to translate climate science into insights for its customers, believes Roberts.
For example, JLT has been capturing data on hail claims to understand the ratio of damage to the size of hail, roof types, etc. It can then feed this information to clients in the form of loss prevention and underwriting advice.
"We are looking for ways to move into the future with science and turn data into actionable insights.
"With increased computing power and more data, we are able to build analytics tools that marry weather with the insurance experience, and provide information to help guide decisions," says Roberts.
"Better data and knowledge will help structure insurance and reinsurance, as well as drive more innovative solutions.
"Once we understand the future triggers, we will be able to structure insurance products accordingly, and potentially offer more cover and new forms of protection," says Roberts.
So while extreme weather can be difficult to precisely predict the scale of an event, understanding the potential impact at a local level and placing greater emphasis on data analytics and modelling will be essential for the insurance industry to cope with natural catastrophes.
Planning for more volatile weather
As weather events become more extreme and unpredictable, planning for large claims will become increasingly important, according to Candy Holland, Managing Director at Echelon Claims Consultants, JLT's major claim specialists.
Natural catastrophes, such as those seen in 2017, generate very large and complex insurance losses for affected companies. But in the struggle to get a business back up and running, it is all too easy to drop the ball when it comes to making the claim.
For a major catastrophe, the onus is on the policyholder to prepare the claim and provide the insurer with the information they require in a timely manner, as well as taking the necessary steps to mitigate the loss. Failure to do so can have a significant impact on claims service, and on the ultimate recovery.
"A catastrophic event, or a series of catastrophes, complicates what is inevitably an already demanding claims process.
"However, many issues can be anticipated and mitigated through pre-claim planning," says Holland.
Experience shows that availability of resources and unexpected policy response are particular challenges companies face when dealing with large catastrophe claims according to Holland.
The scale and volume of claims arising from a natural catastrophe creates a spike in demand for resources and loss mitigation services, as well as putting the policyholder's own internal resources under pressure, explains Holland.
In addition, insurers and their loss adjusting teams become stretched with the sheer volume and complexity of the claims being handled.
"The insured needs to be proactive to ensure that their claim is the top of the pile, especially in a large catastrophe where the insurer will face exceptional levels of claims," says Holland.
Working through the claims process in advance, testing coverage and procedures against loss scenarios, will speed up the claims process and optimise the amount recoverable under a policy, according to Holland.
"It is important to have given thought in advance to how the claims process might play out. You will need increased resources for the claim process and you will need to be familiar with what is required by the insurer and when it has to be provided," says Holland.
Early response to a catastrophe
One of the most important issues is to get the right people involved and to start recording the correct information early.
This initial response to a natural catastrophe is critical to the success of the claim, according to Holland.
Loss scenario planning and policy stress-testing will also identify potential coverage issues in advance, explains Holland.
"Business interruption, for example, is a very complex coverage with policy wordings differing from one insurer to another. If you walk through various loss scenarios with your insurer and broker in advance of a claim, you can understand how your cover will respond and make sure that it meets requirements and that you are not unwittingly underinsured," advises Holland.
By being proactive, policyholders can also get a better service from their insurers.
For example, JLT worked with insurers to get a significant early payment for a major US client affected by Hurricane Irma.
"By working with the insurer and loss adjuster, providing them with the information they required, we were able to secure a significant interim payment within 21 days of the loss," says Holland.